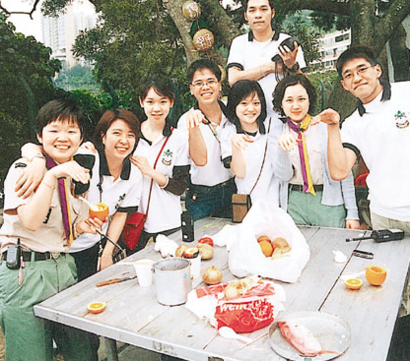 Shirley Yeung @ The Children Armed Forces
Shirley says: "When I was young, I have always wanted to join the children's army group, because I really liked their uniform, and because they were frequently going out. But at the time quotes of people was very little, so I never joined. Until going to school at the Institute, a friend of mine asked me to go with her and join the 249 Young Adult Army Group, then my dream was able to come true.

Learning Till Now
"In three years of armed force leader profession, I have participated in many different types training classes and have learned a lot of different things. As well as participating in the standard spoken Chinese training class. The knot and the open country seeks live hood and so on, the lifetime enjoys, deeply realizes the armed force leader profession "Be Prepared" Importance."

Unforgettable Experience
Being in the young army group, we were allowed to contact with outside nature, but the most was able to train one self's independence and discipline. Joining the Young Army Group was probably a few years and the most unforgettable moment was leading a class of children to study the force knowledge and the correct values of the Young Army Group. Even though children are very hard to control, leading them gives me a satisfied feeling."