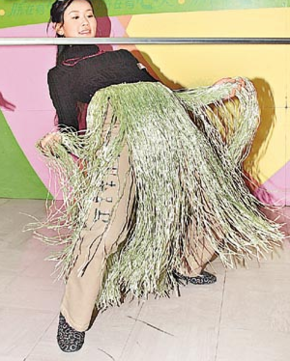 Shirley Yeung and the Miss Hong Kong's Tracy Ip, Sharon Luk, Shermon Tang and Mr Hong Kong Matthew Ko and others were present to attend the huge function and promotion of the "Triumph in People with High Aspirations". Yesterday, a team was led to one of the 'Hor Mun Tins' Nurses On Lao Yeun to visit a group of elderly's where they played games and gave out gifts which were for protection of the cold – these included gloves, etc. This shifts for an earlier time to celebrate Christmas with the elders.

This year's Christmas, Shirley and her boyfriend, Gregory Lee will be at two different places, so they will not be able to spend the festival together, Shirley says: "The other day, Gregory went to Hangzhou to film for the serie "Safe Guards" outdoor scenes. On Christmas Day I still have to film for the new serie "Keung Gim Gong Wu", but we have already planned for an earlier time to exchange Christmas gifts." (What present did you give to your boyfriend?) "They are useful things, but I cannot say what it is, but in addition I also gave him warm packages since the weather in Hangzhou is very cold." When Gregory has to go to Hangzhou where the bird fu is, this makes Shirley worried, therefore, through long-distance phone calls they told him not to eat any chicken or duck.

Other words, Shirley has part in the serie "Always Ready", which is airing at the moment – the average rating is only 22 points, Shirley says: "Just these words, if there are people watching it, then it's OK." (On Christmas Day, many people go on holidays, are you worried that the ratings would go even lower?) "The numeral doesn't represent all, most important is the oral traditions, many of my friends said that they are watching it or on Christmas Day i will meet up with my friends and we'll watch it together."