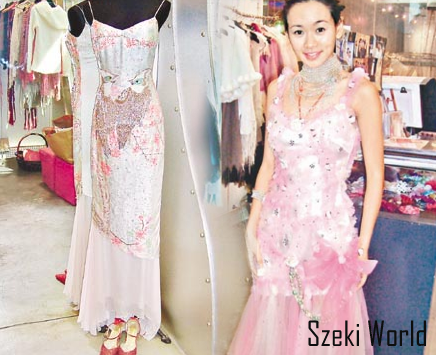 Artistes' life is usually busy, rarely has the time to relax, Shirley Yeung makes a move in all directions. Christmas is near and Shirley expresses that she hopes that it would be spent with her family, together eating a good meal, if so "lucky" is able to get a long vacation. Of course, she would like to go to New Zealand, the place to go for a good swim. All looked upon is too simple, but this is Shirley's dream of life.

Shirley's work is similar to a wave meeting another wave, luckily she understands how to take half a day off, she says: "Every week I would have one or two days of free time, but it is only considered as "half a day off". I frequently would go shopping, looking at the very beautiful colours of the clothing, which makes me feel really happy. Myself, I really like the local brand designs, firstly, I have always supported them and secondly, because the designs are unique. I also don't mind how people "mix and match" (Jong Sarm) with the clothes." When Shirley feels tired, she usually drops a visit to the Coffee Shop to rest, having her beloved hot Mocha, simple and relaxing, as well as allowing the body to rest."

Hoping To Celebrate Holidays With Her Family
Christmas is coming, Shirley expresses that she receives many gifts, so many which even she doesn't remember herself. This year's Christmas, how would you celebrate it?

"This year looks like I have to celebrate it in work! But if I was able to have a day off, I would definitely celebrate it with my family, having a Christmas feast - eating a turkey. Celebrating it with my relatives, it is the warmest feeling. Presents, on the other hand, to tell you the truth, I don't really like simple, direct presents, receiving ones with the thought is the most happiest feeling. I remember, one year, a fan gave me a book with all my photos from magazines, etc, since it's very carefully done, it made me very pleased!" Shirley says.

Goes To New Zealand To visit Old Friend
A new year is approaching, Shirley is hoping the company will give her a long vacation, able to go with her mother for a holiday and their first choice is to go to New Zealand, because of the fine scenery. Shirley says: "I have a friend whom I've known for a long time, lives there. I really want to have an opportunity to visit him, as well to tour this scenic place and enjoy it."