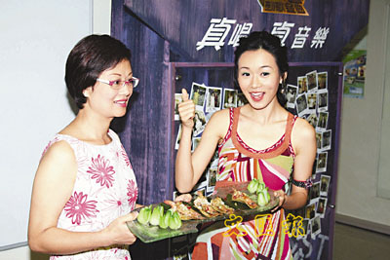 Yesterday, Kevin Cheng, Niki Chow, Shirley Yeung, Anne Heung and Rain Li were all honored guests for the TV Program "For Yummy Drink 'Choi'". Among them, Shirley and Rain brought along their mothers to video record with them.

While filming for the program, Shirley and her mother together made a dish called "Dragon Head Phoenix Tail Celebrate Mother". Shirley herself, didn't too understand how to cook food, but with her own mother there to help, she says: "My mum is a very good cook, but I have not been able to endure this value. I'm usually underneath the kitchen (?) sneakily looking, when I was younger, I would sit infront of the TV and copy the cooking show's recipes down with my brother. I really like eating, but I don't like cooking the food." (Sometimes, do you cook yourself?) [Sorry, i don't no what it said a bit before it] Not really, but if I have children in the future, I would try to learn as quickly as I can, I can go and enjoy eating the food's pleasure and cooking the food's process."

(For Mother's Day, how would you celebrate with your mother?) Shirley says: "I have to work, so I don't think I can celebrate with her. But if it's kissing mum, everyday is Mother's Day. There is no need to specially celebrate on Mother's Day!" (Are you going to prepare one or two gifts?) "I only have one mother, of course it's one gift!" (Are you going to celebrate with future grandmother?) "We'll go have dinner together!"