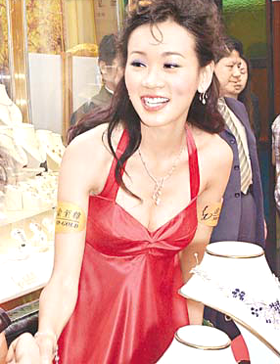 Shirley Yeung was the guest at a prize presentation ceremony for a jewellers, where she presented the lucky winner with diamond jewellery worth $2,000,000. In a game on the day, Shirley was asked to choose a doughnut and see whether there was a diamond necklace inside and maybe Shirley had picked up some luck from the prize winner as she chose the right doughnut and received a necklace worth a five figure sum.

Shirley indicates that she has a collection of diamond jewellery at home that she has bought herself as a reward for working so hard. Some items were also gifts from friends, with the most expensive piece being worth over $10,000. Her most valued piece is a diamond ring that her mother bought for her when she graduated, as it has great sentimental value. Asked if her boyfriend has bought her anything, Shirley says her boyfriend has bought her a necklace, but not a ring yet. She says that if her boyfriend buys her a ring as a normal gift, then she will accept, but if there is another meaning, then it is too early as this is a big decision to make. She believes that her boyfriend has no intentions of proposing just yet, so he has not bought her a ring.

Shirley says that to be able to buy her own jewellery is good motivation to work hard. During the event, MC Lai Man Cheuk commented that filming for TVB makes it hard to save, but Shirley says that working for TVB raises your popularity and for the audience to know you is very useful for artistes. She feels that saving is linked to managing your finances properly and not to filming series.