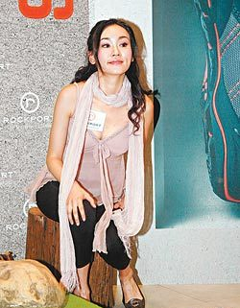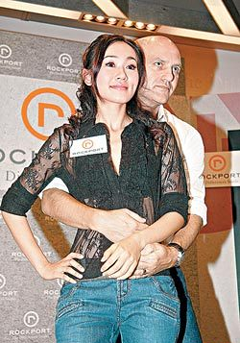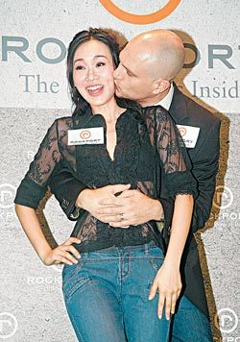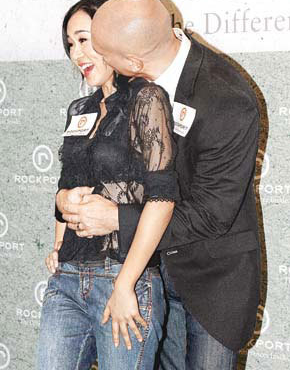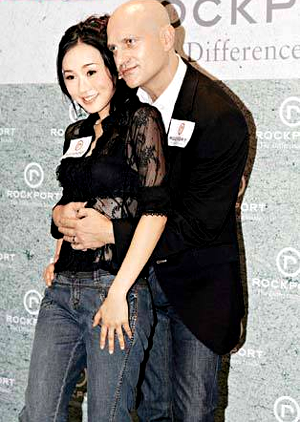 Alex Fong is the spokesperson for leather goods brand Rockport and he took part in a press event with Shirley Yeung yesterday. Shirley changed three times to model the various outfits and made some rather suggestive poses as she showed off the sexy outfits, including a seethrough top and a black bra underneath. No wonder that the International Vice President Mr Steve Holt put his hand around her waist as he accompanied her onto the stage and kissed her three times on the cheek in a show of 'etiquette' that pushed the limits of decency and left Shirley very embarrassed as she could not follow her instincts and pull away.

Afterwards, Shirley was asked how she felt and she replied that there was some confusion: "Foreigners are more open with their greetings and apart from my boyfriend, I am rarely hugged in that way." Asked if he held her during rehearsals, Shirley said at first that there was not this part in the rehearsals, but after she was reminded by her assistant, she corrected herself and said: "Oh, he did hug me, but not so far up." Asked if her fee went up with each kiss, she immediately denied this and says that he used to be a model too and has experience on the international stage, so he is very professional and it is no big deal. Although he did hold her quite tightly, he was just being friendly. She believes that her boyfriend will understand her line of work and will not be jealous.

Alex has worked with this company for ten years now and says that his fee has gone up each year. Asked what he bought his rumoured girlfriend Stephy Tang for her birthday earlier, he says: "Nothing, usually the whole company chips in so we don't have to buy her a present each." Talking of rumours about Stephy's new boyfriend director Yip Lim Sum, Alex avoids the question and says: "I won't interfere with other people's affairs and I don't know if it is true or not. I just know they have worked together and she knows him even better than she knows me."