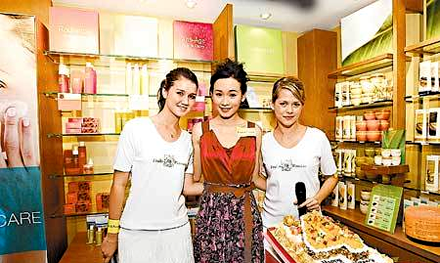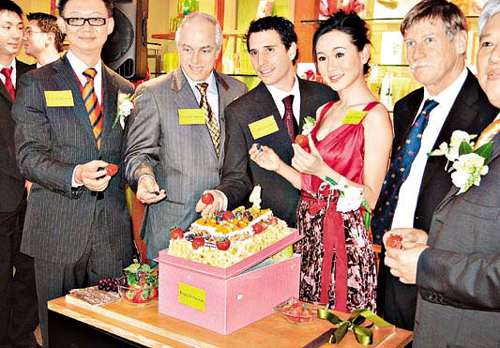 Shirley Yeung attended a promotional event yesterday for a Canadian Skincare brand and as well as opening the shop, she also celebrated the fourth anniversary for the brand by decorating a birthday cake and singing a birthday song. After the hugging and kissing incident, Shirley met with another group of foreign executives, but she said she was not worried about a repeat. She says: "There is no shadow and it was very happy and warm. I can earn money and be happy for their anniversary, so I chose this pretty red dress. The cut is not too low, so I don't need to do any special preparation."

There have been reports that she has suffered depression after the last incident and this has left her missing periods. Shirley denies this, saying: "There is no such thing, I am just suffering from a little acne because I have not had enough sleep and I am eating at odd times. After filming has finished, I will look after my skin a little more." As for the reports that future father-in-law Lee Ka Ding did not actually sue the previous executive, she says she has spoken to him about this and he was very calm about it all.

To celebrate Master Lee's 60th birthday, Shirley says that they will hold a party on his Lunar birthday and give him a surprise. However, Master Lee has expressed a wish to have grandchildren, but on hearing this, Shirley immediately pushed the responsibility back onto her boyfriend Gregory Lee's twin brother Lee Wing Hon: "Tell Wing Hon to work harder. Although he is still single, there are plenty of chances." Asked when it will be her turn, she says: "There is still a long time. I love acting, so I will not consider marriage for a while yet."

In the internet poll for the Disney Princesses currently being held for the Disney Princess celebration this month, Shirley is leading the votes for the Little Mermaid Ariel she says she knows that Ariel has long hair and a wide smile. She does love swimming, but she says that the choices should be made on her personality too. She compares herself to Cinderella because when she was at school, her parents would not allow her to stay out past midnight and she also has her own ambitions in the same way as Cinderella. So is Gregory her Prince Charming? "I don't know, I like the glass slippers but he has not given them to me. He has given me other presents though."